1990 radio maxximum,
1992 1ere rave,
1994 1er disque acheté,
1995 début du mix,
1997/1998 organisateur State of emergency,
2005 = membre du fanzine Artemix (chroniques disk + histoire d'un label ) voilà en résumé le parcour de
DJ Z303909
.
Il a habité successivement à Paris-Orléans-Tours-Paris-Bruxelles et re Paris. Depuis toujours amoureux de musique, il collectionne les disques et en possède environ 5000 en musique électronique. Il a participé à l'organisation des fameuses soirées
State of Emergency (98)
où il s'occupait essentiellement du booking, et pas des moindres puisqu'il fera jouer (entre autres)
Dj Hell, Charlie Hall, Derrick May, Dj Pierre, Lady B
et bookera même en exclusivité mondiale
Kevin Saunderson
! Ses premiers faits d'armes derrières les platines, il les fait vers 96/97, il joue aux côtés d'artistes tels que
Jennifer
et plus proche de nous (Orléans)
.Jeed.
Pour ce podcast pas mal de classiques, raretés, vieux disques... et c'est du 100% vinyls.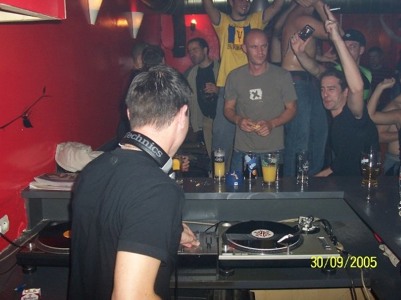 Tracklisting :
ERP = Repose (Semantica)
ERP = Lament subrosa (Frantic flowers)
I-F = Theme from PACK (Interdimensional transmissions)
Ed Chamberlain = Does Ape (Semantica)
Link = Amenty (Evolution U/L/P)
Vladislav Delay = Recovery IDea (The Mike Huckaby S Y N T H Remix) (Semantica)
Dance Fever = Out on the dancefloor (Piled witched mix) (Definitive recordings)
Get deep (White label)
Octave One = I believe (430 west)
ERP = Gallup strings (Semantica)
Armando = Don't take it (Thomos edit) (Let's pet puppies)
LFO vs Fuse : Loop (Fuse mix (Plus 8)
69 = Desire (Planet e / R&S)
UR = Kill my radio station (Acapella) (Underground resistance)
+ de musique par DJ Z303909 sur
http://soundcloud.com/dj-z303909
Listen !