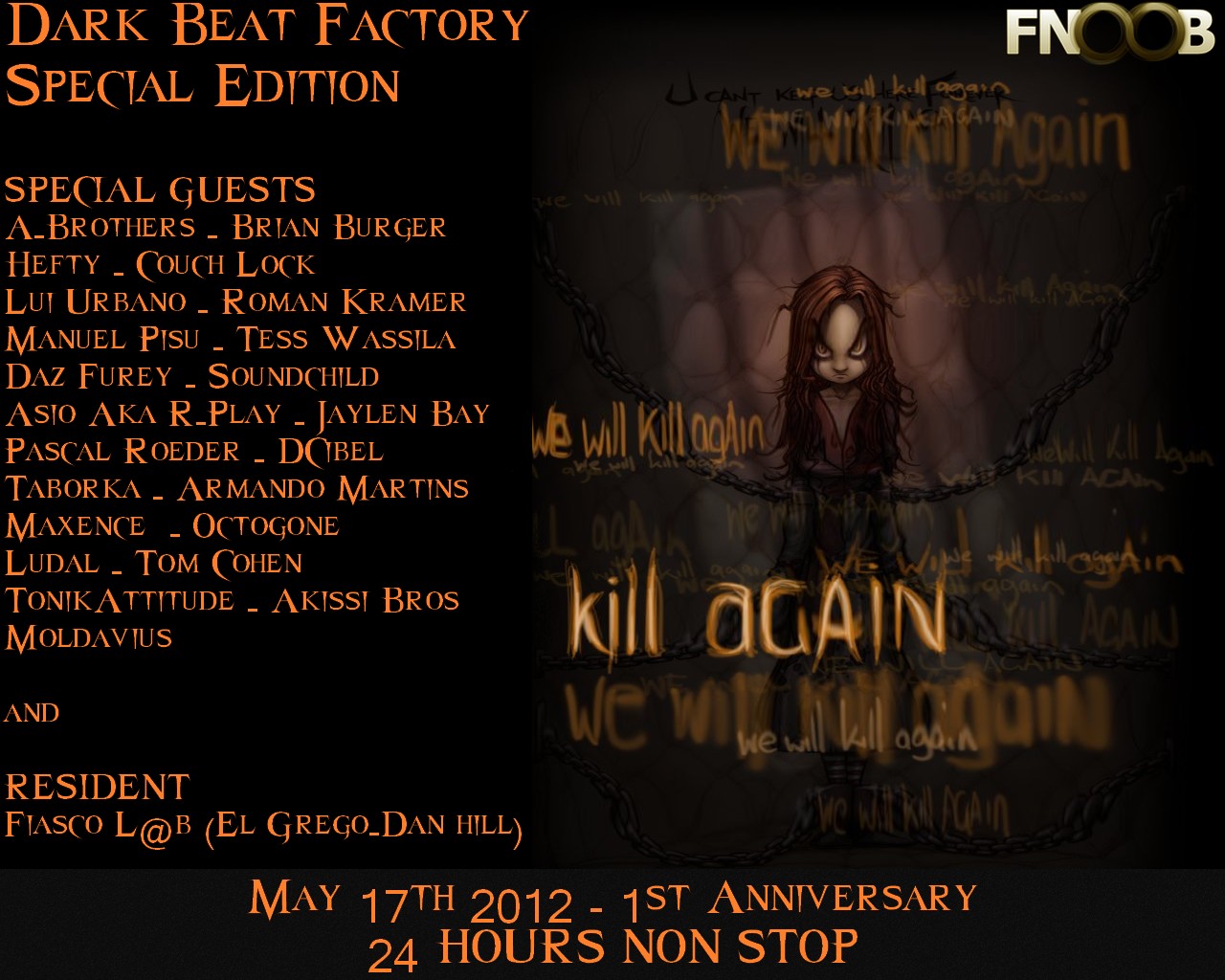 Après la belle soirée "RAVE" au temps machine de Tours en précence d'
ARNO N'JOY
, malheureusement pas de redif ce lundi de la dernière émission (incident technique sur Béton).
Nous vous proposons donc des mixs des orléannais
EL GREGO
et
D KRISS
.
El Grego est le boss de l'émission
DARK BEAT FACTORY
diffuser 2 fois par mois (Le jeudi 20.00 GMT+1) sur
FNOOB RADIO
. Pour les 1 an de l'émission, il proposa une édition spéciale avec 24 heures de mixs non stop réalisé par différents DJ's (
BRIAN BURGER - A-BROTHERS - HEFTY - AND MANY MORE
).
La Techno d'EL GREGO est plus dark que ce que nous vous proposons habituellement sur All Night Long mais depuis des années et toujours sans concession nous aimons l'état d'esprit de ce DJ Orléanais purement Underground.
El Grego @ 1st anniversary Dark Beat Factory on Fnoob
TRACKLIST :
S100 - Repel
Bobby Dowell - Corrosion (Audio Injections Erosion Remix)
Nx1 - Nx1 02 005
Frankyeffe - Nebula
Developer - Sin Luz
Mike Ban, Dietmar Wohl - Zork (Yan Cook Mix)
Yan Cook - DD 4
M.A.D.A.,Plankton - Thinking
Ryuji Takeuchi - Hampuku Session Day Two
A-Hvich - Heart Beat (De Hessejung Remix)
Subjected - 008. BV2
Secluded - Provoke (Shifted Remix)
Taborka - Lost On My Bike (Octave Remix)
Forest People - Octahedron (DJ Hi-Shock rmx)
Sven Wittekind - Darkness All Night
Cortechs - Creek (Urbano Version 2)
Sin Sin - The Poisoner
Erphun - Konviction (Alex Bau Repaint)
Kereni - Black Cherry (Delko Remix)
Mix by Dkriss PODCAST DARKBEAT FACTORY RADIO FNOOB 1ST ANNIVERSARY
Dans notre rubrique support UR local DJ nous publions régulièrment les mix house de D Kriss et là aussi c'est un mix + techno qu'il nous propose.
Mix by Dkriss PODCAST DARKBEAT FACTORY RADIO FNOOB 1ST ANNIVERSARY
by
Dkriss orleans